Revelation 21v1-6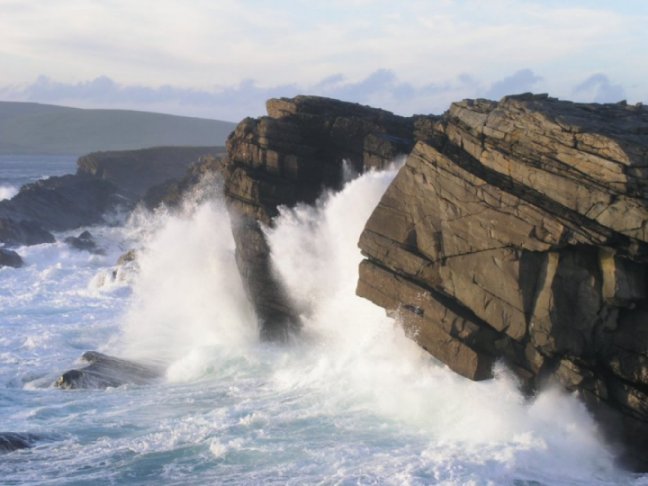 Then I saw a new heaven and a new earth, for the first heaven and the first earth had passed away, and there was no longer any sea. I saw the Holy City, the new Jerusalem, coming down out of heaven from God, prepared as a bride beautifully dressed for her husband. And I heard a loud voice from the throne saying, "Now the dwelling of God is with men, and he will live with them. They will be his people, and God himself will be with them and be their God. He will wipe every tear from their eyes. There will be no more death or mourning or crying or pain, for the old order of things has passed away."
He who was seated on the throne said, "I am making everything new!" Then he said, "Write this down, for these words are trustworthy and true."
He said to me: "It is done. I am the Alpha and the Omega, the Beginning and the End. To him who is thirsty I will give to drink without cost from the spring of the water of life.
John 11:32-44
When Mary reached the place where Jesus was and saw him, she fell at his feet and said, "Lord, if you had been here, my brother would not have died. "When Jesus saw her weeping, and the Jews who had come along with her also weeping, he was deeply moved in spirit and troubled. "Where have you laid him?" he asked.
"Come and see, Lord," they replied.
Jesus wept.
Then the Jews said, "See how he loved him!"
But some of them said, "Could not he who opened the eyes of the blind man have kept this man from dying?"
Jesus, once more deeply moved, came to the tomb. It was a cave with a stone laid across the entrance. "Take away the stone," he said.
"But, Lord," said Martha, the sister of the dead man, "by this time there is a bad odor, for he has been there four days."
Then Jesus said, "Did I not tell you that if you believed, you would see the glory of God?"
So they took away the stone. Then Jesus looked up and said, "Father, I thank you that you have heard me. I knew that you always hear me, but I said this for the benefit of the people standing here, that they may believe that you sent me."
When he had said this, Jesus called in a loud voice, "Lazarus, come out!" The dead man came out, his hands and feet wrapped with strips of linen, and a cloth around his face.
Jesus said to them, "Take off the grave clothes and let him go."
Therefore many of the Jews who had come to visit Mary, and had seen what Jesus did, put their faith in him. But some of them went to the Pharisees and told them what Jesus had done. Then the chief priests and the Pharisees called a meeting of the Sanhedrin.
"What are we accomplishing?" they asked. "Here is this man performing many miraculous signs. If we let him go on like this, everyone will believe in him, and then the Romans will come and take away both our place and our nation."

The tremendous readings we've heard today sweep us forward to picture the beauty of the age to come, 'The dwelling of God is with men and he will live with them. They will be His people, and God himself will be with them and be their God' in the new heaven and the new earth; and then sweep us back in the gospel reading to an episode from Jesus' life shortly before his crucifixion, Jesus, who has opened up the way for us to experience this heavenly life.
Sandwiched in the middle, as it were between Jesus' time on Earth and His coming again at the end of time as we know it, is the Church era; that's us – and we have something particular to celebrate today; the thirtieth anniversary of being a parish church, as opposed to just the garrison church.
Suppose you had been on a voyage of exploration and had discovered a beautiful river. You have discovered its name, and are amazed at its power and its beauty. You could spend all day gazing into it, marvelling at how beautiful it is. The banks, the countryside it goes through, the boats that go up and down it . . , But it's too beautiful to keep to yourself. You want others to know about it.
It's rather like that when people first discover God through Jesus. Those who get to know Him have found the river of life that isn't something external but something that flows within our hearts. Jesus said, 'Whoever believes in Me, as the Scripture has said, streams of living water will flow from within him.'
Because we know and love Him we want to meet with people who appreciate and love Him – the Riverside Appreciation society. But whereas normal clubs are concerned for their own members, the Church is quite different. As one former archbishop of Canterbury put it, 'the Church exists primarily for the benefit of those who are not yet members of it.'
That's why many Christians aren't content just to set up riverside homes with incredible views; they feel called to up sticks and go to the hard and loveless places of the world. It's Mother Teresa serving the poorest of the poor in India. She didn't need to have done that, but thousands, perhaps millions have come to love Jesus more because of what they have seen in her.
All Saints church is like a river to this parish: to water it with the knowledge of Jesus. To serve people in need in the best way we can, not least by pointing them to the One who is the water of life. He's our hope and shepherd in this life, and the one we will be with for eternity.
The theme of the river of God is quite an important one in the Bible. We here today are not the Thames, let alone the unspellable Mississippi Missouri. We are just a small church, one of many in Canterbury, that point people away from themselves to Jesus, and that invite people of all ages, and at all phases of their life's journey, to set sail on a river of discovery and exploration to join with the stream that never ceases to flow.
At the same time, we can do each other so much good, by sharing our knowledge of the river together. I have travelled widely for the Lord, and have immediately been at one with people who love Jesus: it's a fantastic privilege to belong to a world wide family of faith. We help each other practically and spiritually to navigate the river of life.
There are places in the world where the Christian faith is in the majority; where there are churches the size of the Wembley stadium (old or new) with hearts on fire and praising God as they see His power at work. Right now, the church in the West in a minority; it's not the faith that has changed, but most people no longer know much about it. We are ripe for a revival. Jesus ministered to large crows – 5,000 was clearly not exceptional – but He was never embarrassed to minister with and to the few.
He knew that the twelve disciples He had appointed, - one of whom, Judas, would fall by the wayside – could and would change the world. It is such a joy that there is, as it were, a parallel world waiting to be found.
Let's go back to the episode in which Jesus raised Lazarus from the dead. I think we could say that it was in every sense a grave message. One of Jesus' closest friends takes seriously ill, the news is brought to Jesus – and He stays right where He is for several more days. In the meantime, Lazarus dies.
Mary is reproachful. 'If you had been here, Jesus, this wouldn't have happened,' she lamnents. Others took up the theme rather less kindly. "Could not he who opened the eyes of the blind man have kept this man from dying?"
Now because we know the end result, it is often hard to come alongside the people as the events were unfolding. Let's think for a minute about the reproach. It comes not from someone who is hostile to Jesus, but from someone who is very dear to Him – perhaps His closest friend. If she could do, we can too. Most of us blame God surprisingly easily, perhaps I should say disappointingly easy, when things do not work out as we had hoped, when we don't land the perfect job we were applying for, when friends move on, relationships break up – and our team is knocked out of the Cup!
Sometimes things don't work out because we haven't followed the Maker's instructions, or taken the steps we should have done to ensure that it can be fulfilled. God isn't a shortcut to make up for our laziness. But sometimes things happen over which we have no control at all. Other people may have let us down, and scuppered what we had been hoping for. All such things test our heart. God doesn't always intervene and overrule their free will. Will we lash out and reproach Him. Or find someone else to blame. We easily suffer from BSE: Blame Someone Else!
Jesus may have stayed away from Lazarus, but in reality, He was far from indifferent to what had happened. It is right to be deeply moved by the plight of friends. When He first heard the news about Lazarus' death, Jesus wept. It must be the shortest verse in the Scriptures – but what a lot it points to.
The phrase 'Deeply moved' is Terrasso. Do you remember the agitator in the old twin tub washing machines that beat the clothes? That's nearest I can get to describe the intensity of emotion that word conjures up. Jesus was deeply stirred. He felt compassion. And whenever we read that Jesus felt compassion in Scripture – for we see miracles following immediately afterward. Like the time He came upon for the widow of Nain's dead son whom He raised from the dead, in Luke 7, or when He felt compassion for the crowds who had been hanging on His every word and were now hungry, so He multiplied the loaves and fishes and fed them.
Even though Jesus knew that the grave was not to be the end for Lazarus, but only a prelude to something incredibly and gloriously better, He felt the grief of Mary and Martha were feeling, Lazarus's sisters.
Look how patient Jesus is. He didn't set out to correct her by saying, 'hey can't you guys stop reproaching me? Don't forget all the good things I've done; I'm the good guy round here.' He just shows His love and concern. He asks where the body has been laid. Then Mary says 'come and see.' It is a lovely counterbalance to the early days of Jesus' ministry when He said to the first disciples, 'come and see.'
What did Jesus see? Something that would have been completely faith stopping for most of us – a decaying corpse in a tomb. Not the most promising place in which to practice your healing ministry.
Jesus wasn't in the least bit fazed, or daunted. He was full of peace and balance and poise and authority. He knew that His Heavenly Father heard Him when He prayed – and He wants us to have the same confidence in our relationship with Him.
If there's any idea in your mind of gentle Jesus, meek and mild – stuck in the nativity crčche, try looking at the first chapter of the book of Revelation. You will see Jesus as He really is, high and lifted up: Jesus who will come back to earth not as a baby child, but as King of kings and Lord of Lords.
Jesus says 'Have the faith of God,' for life's many challenges and impossible situations. That's a challenge we need to ponder. Is our faith passive (just a vague set of beliefs) or is it active, as Jesus' was?
I have a friend who ministers in Africa. He has prayed for the blind and they see, he has prayed for the deaf and they hear, for those born unable to walk who are now walking. He is a humble compassionate ordinary guy, but God has entrusted him with an extraordinary ministry. He is in touch with Jesus, and He is experiencing the powers of the age to come, heaven; God's Spirit flows through him.
That is the river of faith that the Church is here to celebrate in this place.
Don't miss out on experiencing the compassion that Jesus has for you, and that you can know in your hearts. There really is nothing else like it on the world; even the love of your very best friend or lover can't get close to equalling it.
People are often worried, though, by how it will appear to others. When Lazarus was raised from the dead, many were so deeply touched that they came to have faith in Jesus for themselves. After all, they had seen the power of God work at work through Him, and the evidence was right there before their eyes.
But not everyone rejoiced. There were those who were so loyal to the Scribes and Pharisees that they reported the affair to the authorities, as if Jesus had been guilty of some great crime in raising his friend from the dead. Faith incenses some people to the point where they will do all they can to do away with Jesus and all He stands for. They will do use anything they can to discredit it, and to try to disprove it. People have tried to do this all through the centuries, -- and yet countless millions around the world today love Jesus with all their hearts.
Today, that anger is directed against the Church. 'Why doesn't the Church do such and such?' they clamour? Hey, the Church, as a building, can't do anything. It's only bricks and mortars. Even as an institution it can't do very much. The real Church is made up of people who love the Lord, and who are working together to serve Him. When we are linked together we can do a great deal.
There is an old mnemonic CH—CH– what are the missing letters? UR!
God never intended this life to be all that there is. He never expected mankind to progress to such a state of scientific intelligence that we can make heaven for ourselves by our own efforts on earth. If we could invent pills and operations that would enable us to live forever there wouldn't be enough dosh in the pension pot to go round anyway! No Heaven is heaven, and our life on earth is as long as it is; but heaven has come to earth in Jesus, and we can go to heaven, and share the quality of that risen life wherever we go now.
Jesus said, 'If anyone is thirsty, let Him come to Me and drink.'
He was speaking of a living relationship, of knowing God rather than knowing about Him. How thirsty are you?
Jesus said that He has prepared a place for us: it is up to us to want to go there. He wants to bless and guide our days: the question is: will we yield our lives to the flow of His river and let Him be Lord in every part of our lives?
'To him who is thirsty I will give to drink, without cost, from the spring of the water of life.'
This material, including the photograph, is copyright Robert Weston 2007. It may be freely copied or forwarded for the benefit of individuals or house groups, provided the source is attributed.

If you enjoyed this article, the following are amongst the Pilgrim Guides available via our website www.ruachministries.org:

Overcoming Shame
Herald and Prophet: The Ministry of John the Baptist
The Person and Work of the Holy Spirit
Out Front: For Leaders and Prospective Leaders
Fit for Purpose and Filled with the Spirit